Electrostatic Discharge ESD Awareness Handbook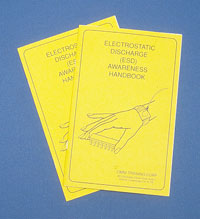 ESD Awareness Handbook
(now available in Spanish)
Any company that manufactures electronic assemblies that are susceptible to damage by Electrostatic Discharge (ESD) is required to have an ESD Control Program. This includes any facility, which in any way handles ESD sensitive devices or assemblies (such as distributors).
This ESD Awareness Handbook (Part No.#ESD-HB) is an ideal handout for use in class and as a quick reference after class. The handbook covers topics such as:
What is ESD?
How are charges generated?
Why is ESD a problem?
How can ESD be controlled?
| | |
| --- | --- |
| Part# | DESCRIPTION |
| ESD-HB | ESD Awareness Handbook |
| ESD-SPHB | ESD Awareness Handbook Spanish Version |
ESD DVD
This 22 minute video teaches the basics of ESD (Electrostatic Discharge) as well as it's causes and effects. The target audience is anyone who handles, or in any way comes in contact with, ESDS (electrostatic discharge sensitive) components and/or assemblies. The video content discusses the complete ESD Control Program which consists of control methods, materials, and equipment such as grounding, protective materials, protective handling, humidity control, ionization and monitoring methods. Subjects also addressed include ESD prevention, identification and classification of ESDS devices. There is nothing flashy about this video. However, if you are interested in a simple supplement to your in-house ESD training, this one is for you.
| | |
| --- | --- |
| Part# | DESCRIPTION |
| ESD-DVD | Omni ESD DVD |